Description
The Hikvision DS-7204HUHI-K1/P is a digital video recorder (DVR) with 4 analogue BNC inputs that supports analogue TVI/CVI/AHD cameras up to 5 mega-pixel and ONVIF compatible IP cameras up to 8 mega-pixel. The DS-7204HUHI-K1/P can support 8 cameras in total when combining analogue and IP cameras.
The DS-7204HUHI-K1/P also supports power over coax (PoC) technology enabling cameras to be connected with a single coax cable for power, video and control.
The DS-7204HUHI-K1/P has 1 x SATA hard drive bay that supports a 3.5″ hard drive, 4 x analogue audio inputs and has HDMI and VGA monitor connections.
Like all Hikvision DVR's and NVR's the DS-7204HUHI-K1/P can be connected to a network with an Ethernet cable or optional WiFi adaptor for local network and remote Internet access using a computer or mobile device.
Interface

| Number | Description | Number | Description |
| --- | --- | --- | --- |
| 1 | VIDEO IN | 8 | RS-485 Serial Interface |
| 2 | AUDIO IN, RCA Connector | 9 | 48 VDC Power Input (for DS-7204/7208HUHI-K/P); 100 to 240 VAC (for DS-7216HUHI-K2/P) |
| 3 | AUDIO OUT, RCA Connector | 10 | Power Switch |
| 4 | VGA Interface | 11 | GND |
| 5 | HDMI Interface | 12 | VIDEO OUT |
| 6 | USB Interface | 13 | Alarm In/Out |
| 7 | LAN Network Interface | | |
Hikvision 7200 Series DVR Comparison Chart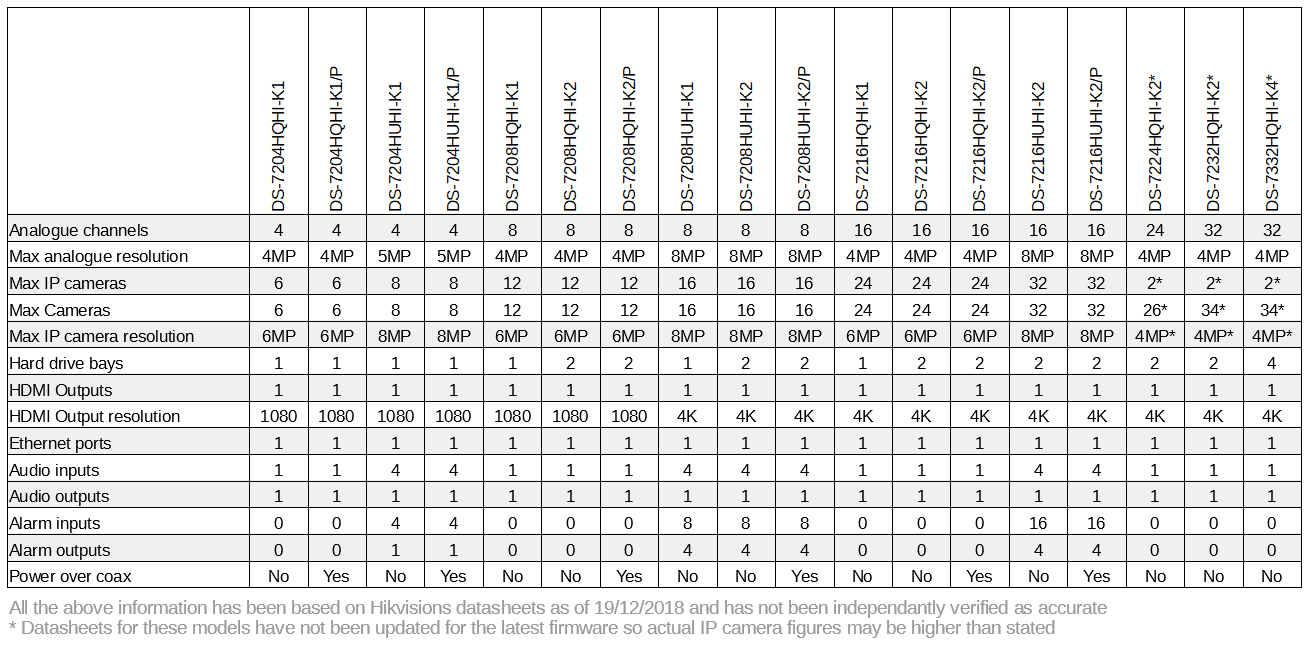 Features
Supports up to 8 cameras in total when combining analogue and TVI
Up to 5MP analogue and 8MP IP resolution
Power over coax technology for one cable installation
Supports H.265+ compression for efficient bandwidth and storage use
 Self-adaptive HDTVI/HDCVI/AHD/CVBS signal input
4 Channel synchronous playback
Supports 1 x 3.5″ hard drive up to 10TB
HDMI and VGA monitor outputs
Support H.265 Pro+/H.265 Pro/H.265 video compression
Smart search for efficient playback
Support the third-party cloud storage
Support multiple VCA (Video Content Analytics) events for both analog and smart IP cameras
Support line crossing detection and intrusion detection of all channels, and 2-ch sudden scene change detection
Hik-Connect & DDNS (Dynamic Domain Name System) for easy network management
Max. 36/64/128 Mbps incoming bandwidth and output bandwidth limit configurable